The 9th General Assembly took place on April 26, 2021 (online)
The motion to increase the annual membership fee from CHF 30 to CHF 50 was approved.
Braida Thom was also confirmed as a new member of the Committee. She is an agricultural scientist and works as a project manager and scientific assistant at ETH Zurich. Braida is coordinating CABOZ Action's water projects. Welcome to the Committee, Braida!
Update Covid-19
By 30 June 2021, more than 750 000 vaccines against Covid-19 had been administered in Côte d'Ivoire, with priority given to those at most risk. But many Ivorians do not get vaccinated as Covid-19 is still considered a low risk disease. Since the pandemic began, around 310 deaths had, at the end of June, been officially attributed to Covid-19. In contrast, more than 1500 deaths due to malaria were recorded in 2019, but estimates suggest well over 9000 may have died, most of them children (Link: https://www.severemalaria.org/la-cote-divoire).
The Ivorian government is continuing its prevention efforts and so is CABOZ Action. Our 2020 prevention awareness campaign has led to hand-washing at the beginning of meetings becoming a ritual, according to Fulbert, our project manager in Soubré. But few think wearing masks is necessary, particularly as many of the meetings take place outdoors.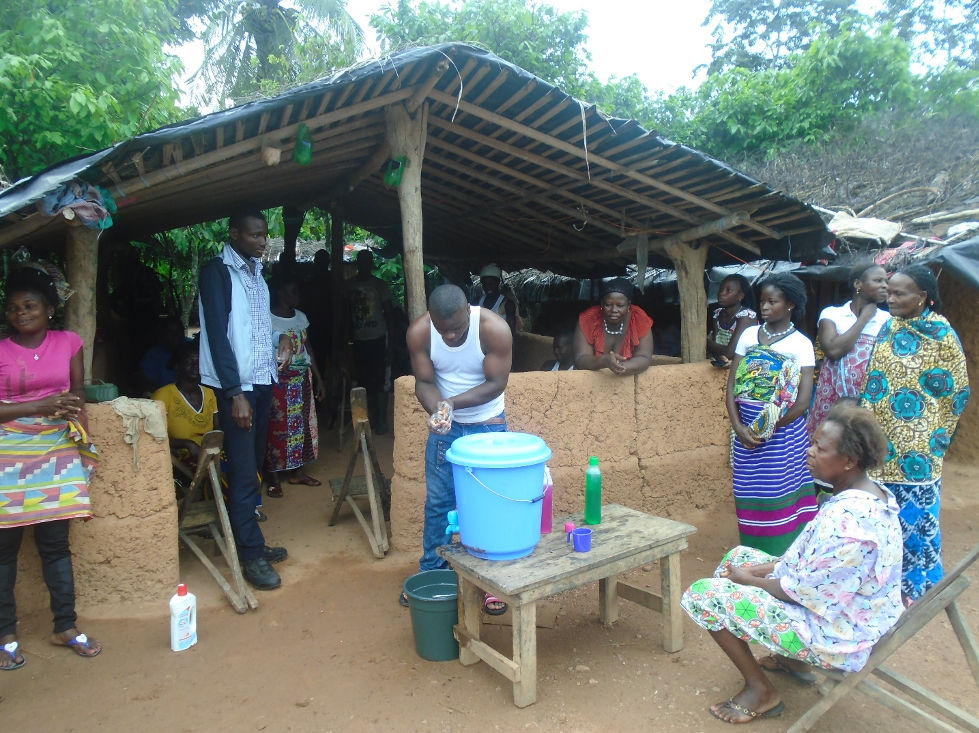 Youth Farmer Field Schools (YFFS) + Village Savings and Loan Associations (VSLA) + Gender Sensibilisation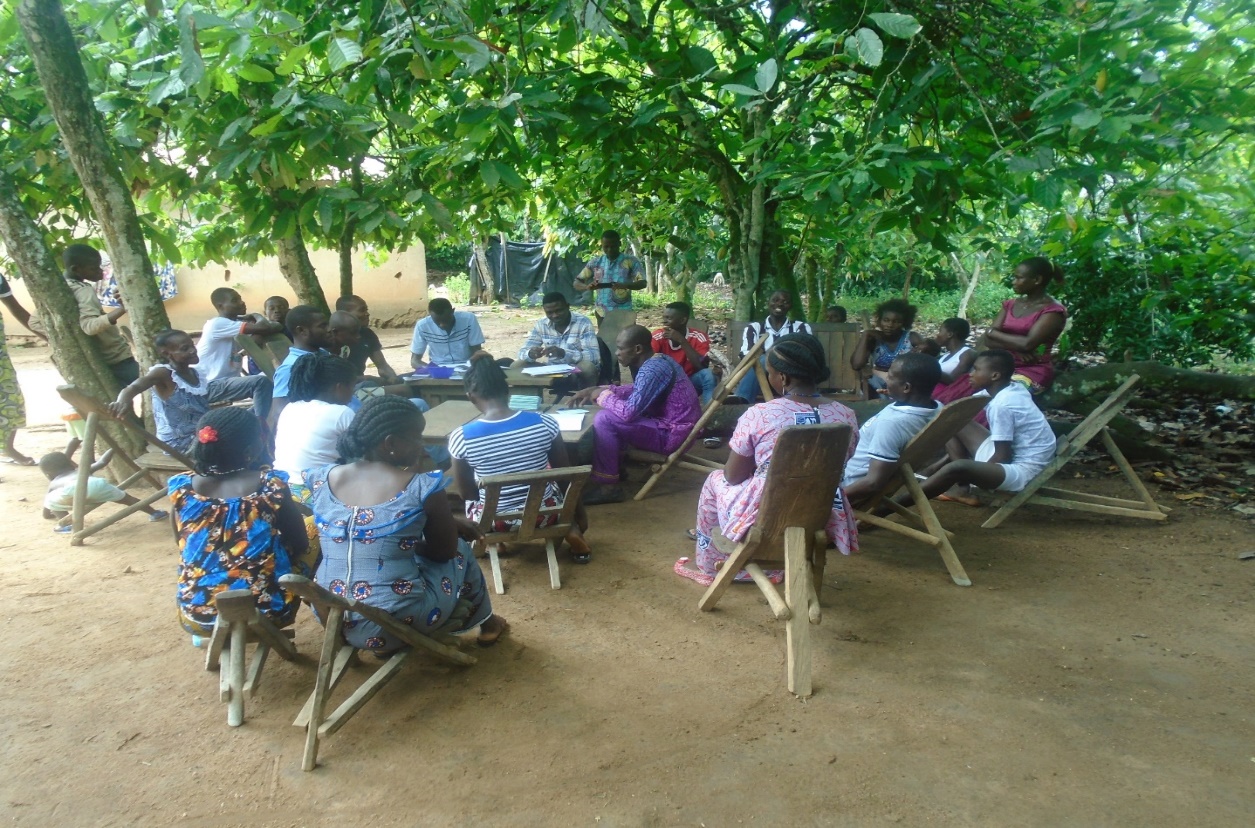 This 2-year project, jointly funded by CABOZ and the Jacobs Foundation, got off to a good start in January 2020. Nearly 300 young people (15-35 years old) in ten different villages were selected to participate in a training programme with the objective to support them in setting up income-generating projects in their local communities. So far the VSLAs have raised nearly CHF 5000 (CFA 3 million) to start their business projects, which include processing cassava, selling eggs and producing maize. The gender sensibilisation part of the project has been delayed by the Corona crisis as travel has been restricted, but women have been actively encouraged to participate in the project.
Here they are with one of the youth groups in Duekoué at a meeting to discuss the VSLA savings scheme. Note the large cash-box on the table!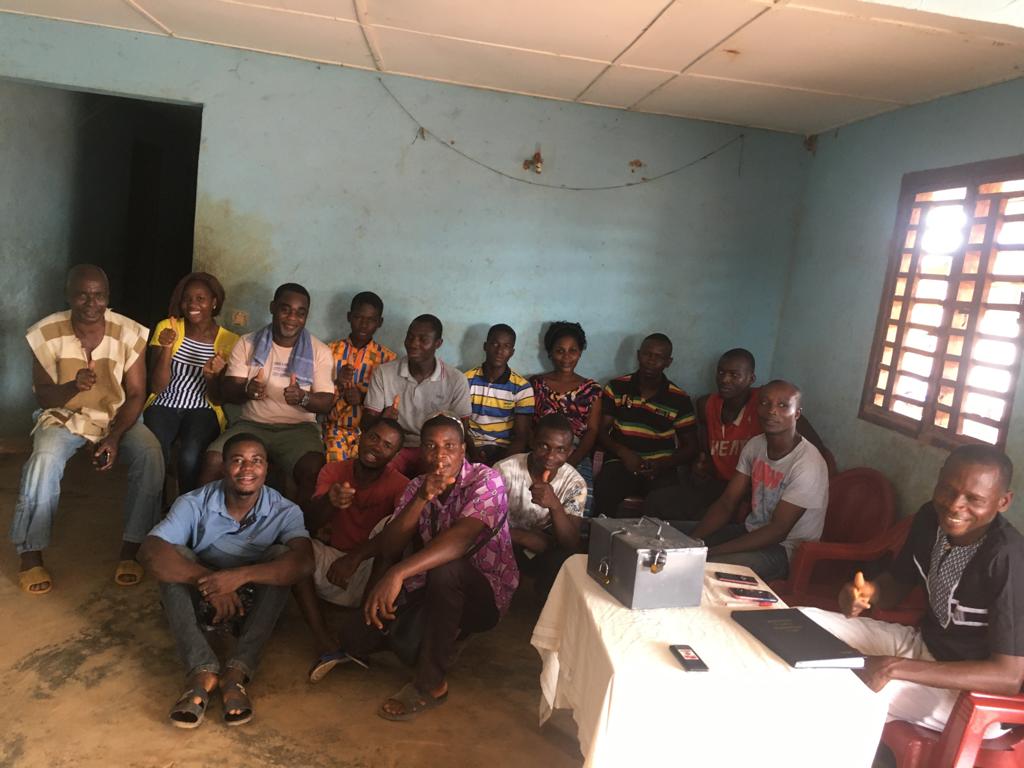 YFFS youth group in Bähé Sebon with cash-box.
Back row: 2nd from left = Lydie, our project manager in the Duekoué region, 3rd from left = Joel, Vice-President CABOZ Action 
Schoggi Festival in April
We were planning to have a stand at the first festival for sustainable chocolate in Switzerland, but since this couldn't take place, the organisers suggested make short videos. Here is what CABOZ Action's President, Silvia Dingwall, had to say:
January 2021
As in 2020, Braida Thom spent January 2021 in Soubré to evaluate the CABOZ project 'Village Cocoa Competence Centres' in the cocoa villages on behalf of ETH Zurich in a project partly financed by SECO. The first results of the evaluation show that farmers who cooperate with CABOZ generally trust the cocoa buyers more than those who do not cooperate with CABOZ. The impact of the central fermentation plant should become clearer in the near future.
Braida also visited the drinking water systems again and analysed their water quality with Fulbert, who is responsible for CABOZ Action in Soubré. To increase the sense of local ownership for the drinking water systems and to reduce dependence on CABOZ Action for maintaining them, we have set up water committees to take care of them.
Newsletter #10 | April 2021
Newsletter #9 | December 2020
Newsletter #8 | June 2020
Make a donation
CABOZ Action
IBAN: CH96 0839 0031 7536 1000 0
BIC (SWIFT-Code): ABSOCH22
Hermetschloostrasse 70, 8048 Zürich
Please note donations to CABOZ Action are tax-deductible in most Swiss cantons.
Contact
Silvia Dingwall
President CABOZ Action