Covid 19
Our staff in the field, Fulbert and Lydie, already started in mid March raising awareness about Covid 19 in the cocoa villages where CABOZ Action is active. Since then the virus has spread from Abidjan to other areas in the country. The government has introduced stricter regulations on maximum group sizes and is promoting social distancing and hand washing. Lydie and Fulbert now routinely give up-to-date information and demonstrate careful handwashing as part of their courses for young people in the villages. We hope that, by starting raising awareness and explaining the prevention measures early, we will help to prevent Covid spreading to the cocoa villages.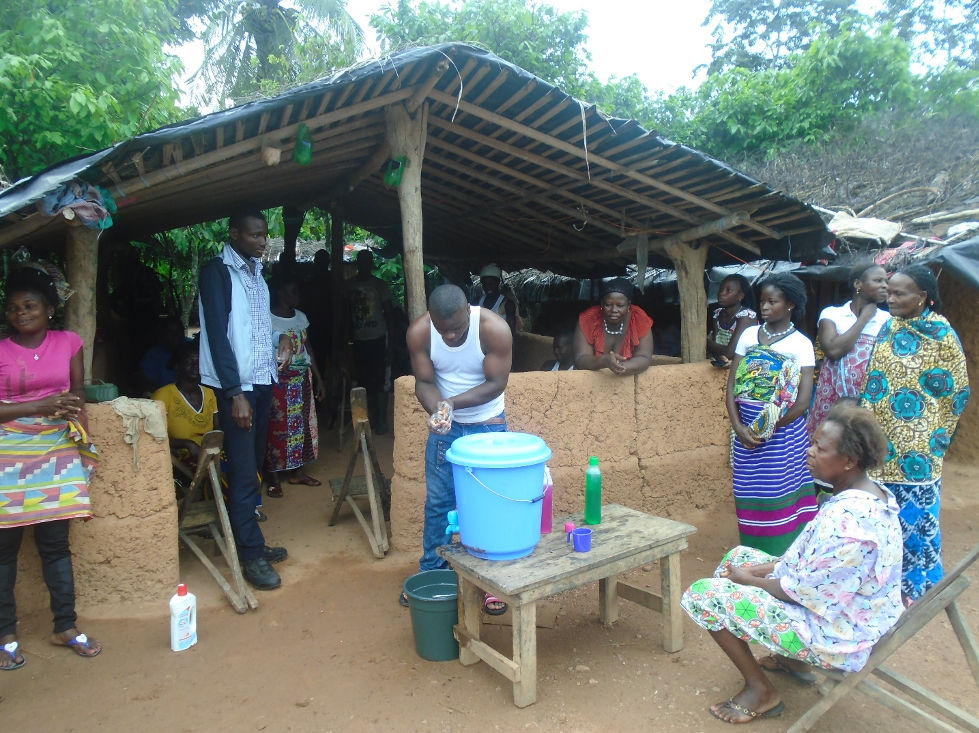 Schoggi Festival in April
We were planning to have a stand at the first festival for sustainable chocolate in Switzerland, but since this couldn't take place, the organisers suggested make short videos. Here is what CABOZ Action's President, Silvia Dingwall, had to say:
Funding for drinking water
Canton Baselstadt has kindly offered us CHF 15'000 to install a solar-powered drinking water system in a village in the Duékoué region. We will keep you posted on developments.
January 2020
Braida Thom is spending most of January in Soubré, where she is monitoring CABOZ's Village Cocoa Competence project, which is partly financed by SECO www.seco.admin.ch.
On 6th January she kindly ran a short workshop with CABOZ Action and CABOZ staff to explain Aqua Pura's Waterflow System so that they can check the three drinking water systems already installed. She also showed them how to test the water quality using the equipment supplied by Aqua Pura.
The president and vice-president of CABOZ Action Switzerland inaugorated several projects during their visit to Soubré and Duékoué in January 2019.

Newsletter #7 | December 2019
Newsletter #6 | July 2019
Newsletter #5 | March 2019
Newsletter #4 | November 2018
Newsletter #3 | July 2018
Newsletter #2 | February 2018
Newsletter #1 | October 2017
Annual Report CABOZ Action 2018
Annual Report CABOZ Action 2017
Annual Report CABOZ Action 2016
Financial report CABOZ Action 2018
Financial report CABOZ Action 2017
Make a donation
CABOZ Action
IBAN: CH96 0839 0031 7536 1000 0
BIC (SWIFT-Code): ABSOCH22
Hermetschloostrasse 70, 8048 Zürich
Please note donations to CABOZ Action are tax-deductible in most Swiss cantons.
Contact
Silvia Dingwall
President CABOZ Action